Purchase
Note: Four Winds Mah Jong only runs on Windows desktop operating system (all versions from Windows 95 to Windows 11, both 32- and 64-bit, excluding Windows 10 S). While the game is compatible with Windows 10 S, it cannot be installed on this platform unless it is upgraded to Windows 10 Pro.
If you are unsure whether the game runs on your Windows operating system, please download the evaluation version (a very old version but installable on all supported Windows deskop operating system versions) to ensure that the game can be installed on your computer. As a rule, we do not make refunds on the ground that the game cannot be installed on the computer where it is intended to be played.
Purchase using our new online store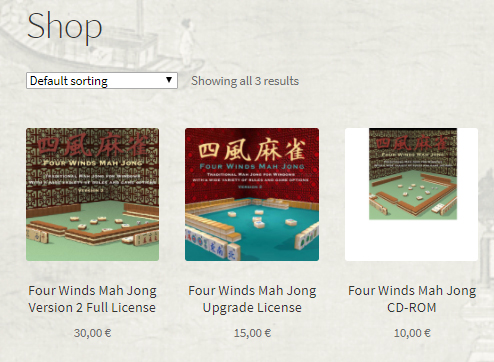 You can purchase a new or an upgrade license using our new online store, supporting PayPal and major credit cards.
CD-ROM disc is now again available as an add-on or a separate purchase.
---
OR: Purchase a New License Using Directly PayPal
---
NOTE: Disregarding the method of ordering the registration information along with the download address to the latest full version of the game will be e-mailed to you (or if you do not have an e-mail address, sent by postal mail). With the registration information you can enable all the features of the installed game by using the Register command on the Help menu of Four Winds Mah Jong.